Seen as an acceptable pastime for upper-class women, Eden took every opportunity to put brush and pen to paper. She painted everything from animals and landscapes to peasants and rajas. This is a small sampling of the hundreds of paintings and sketches Eden created during her time in India. The paintings are now held by the Victoria Memorial Hall (VMH) in Kolkata, India.
A Group of Five Heads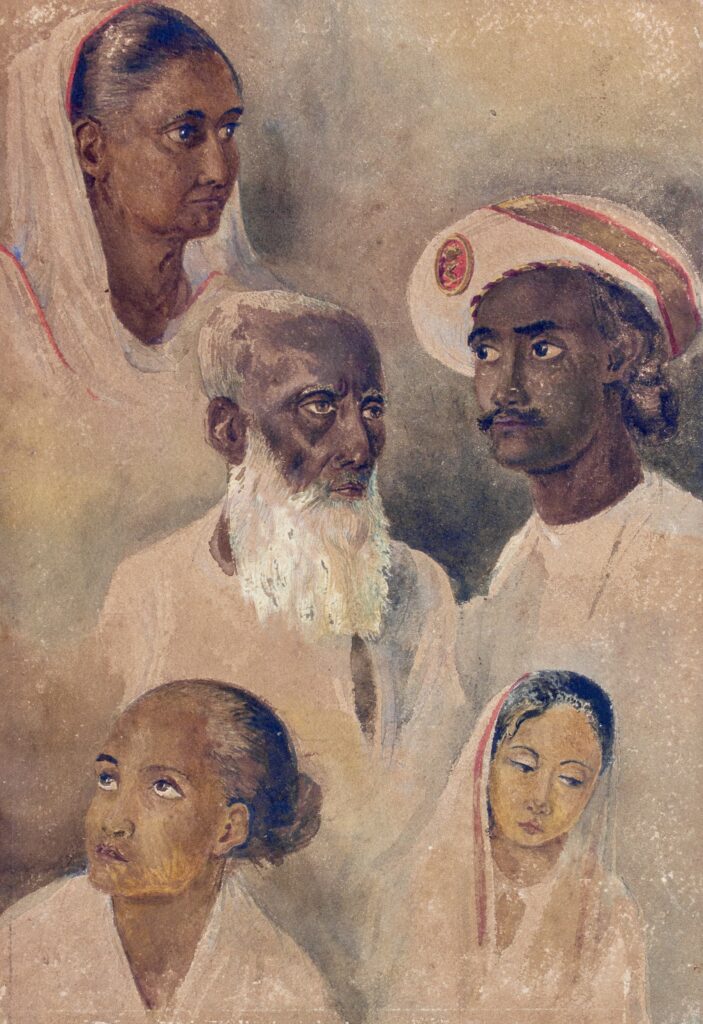 VMH R435-12
This is the only known portrait of Rosina (top left).
A Mussalmanee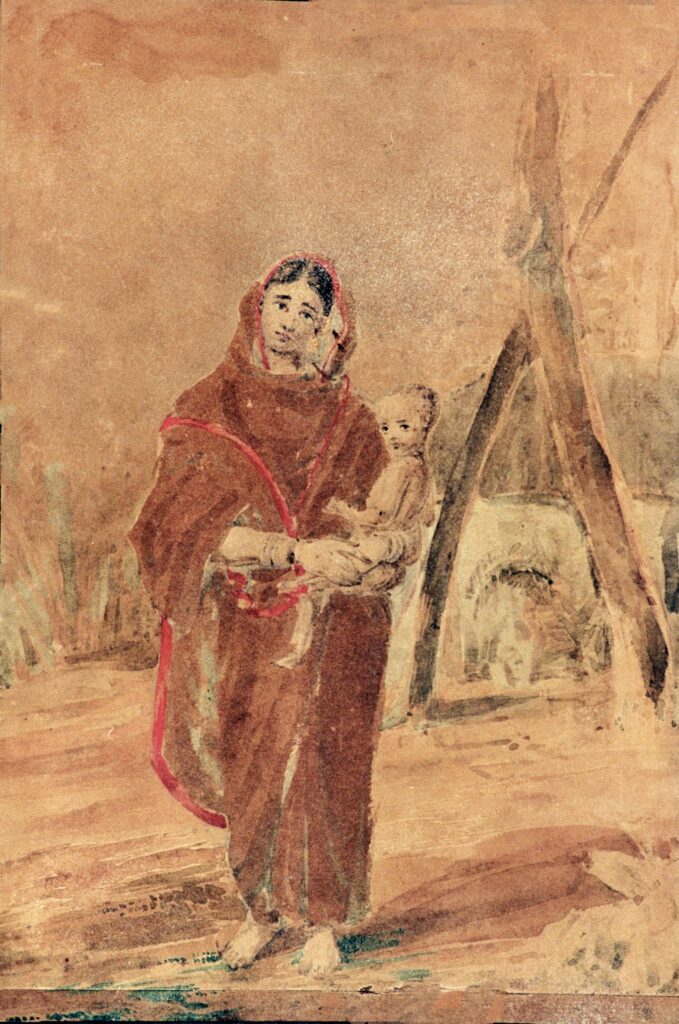 VMH R435-20
A Mussalmanee [Muslim woman] in the dress usually worn by the ayahs at Calcutta and carrying her child on her hip according to their usual custom. E.E.*
Eden, by implying that carrying a child on her hip is an Indian custom, is condescending. It is a false generalization used to suggest primitiveness.
Annoo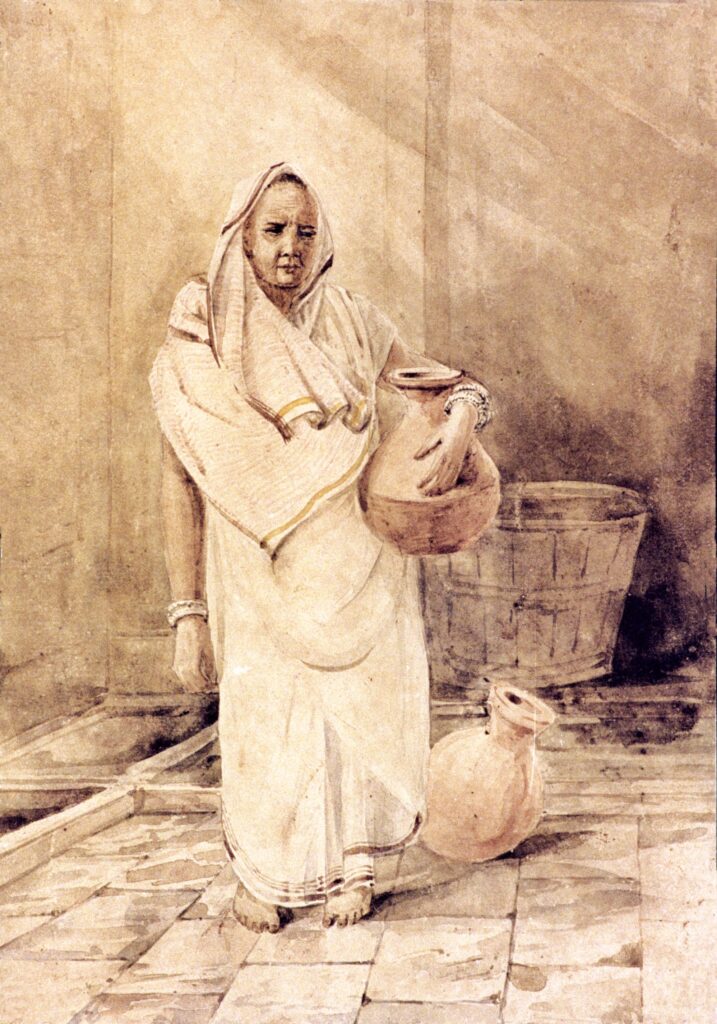 VMH R436-23
Annoo, an old Hindu servant of very low caste who had been a servant of the Government House for fifty years and died in 1848. E.E.
Eden painted Indians from every level of society. This portrait of Annoo is part of the VMH collection of Eden's paintings which also includes portraits of rajas of great wealth and power.
A Pensioned Sepoy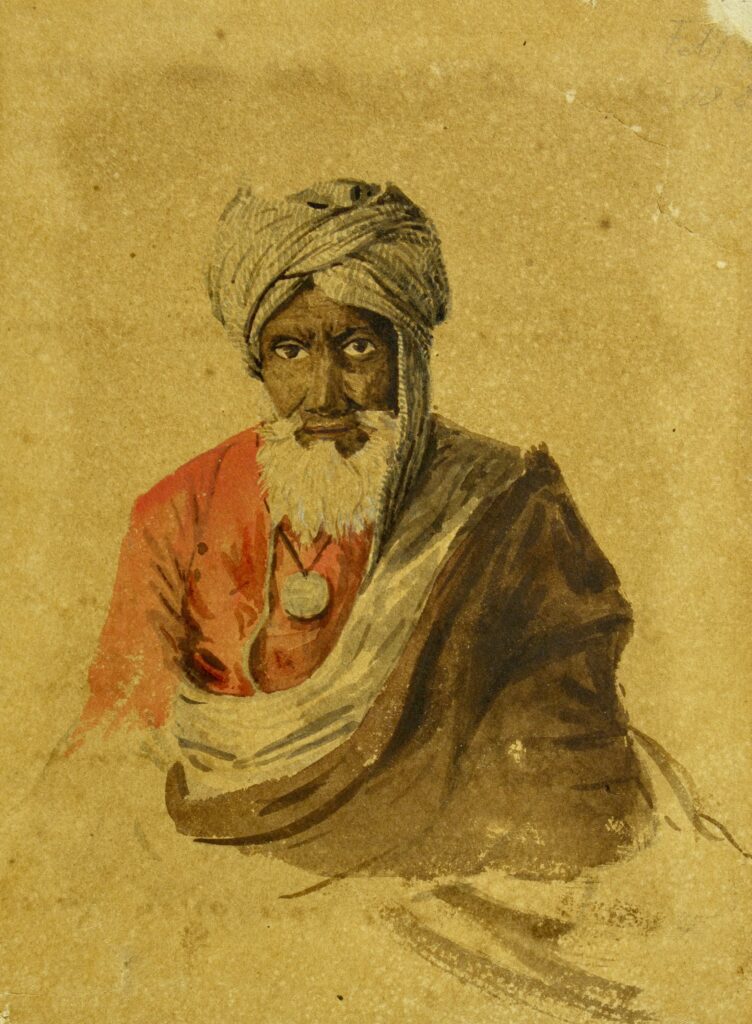 VMH R435-30
An old pensioned Sepoy, wearing a medal, February 1840. E.E.
This painting by Eden is in the style of a classic military hero portrait.
A Ghaut at Mirzapore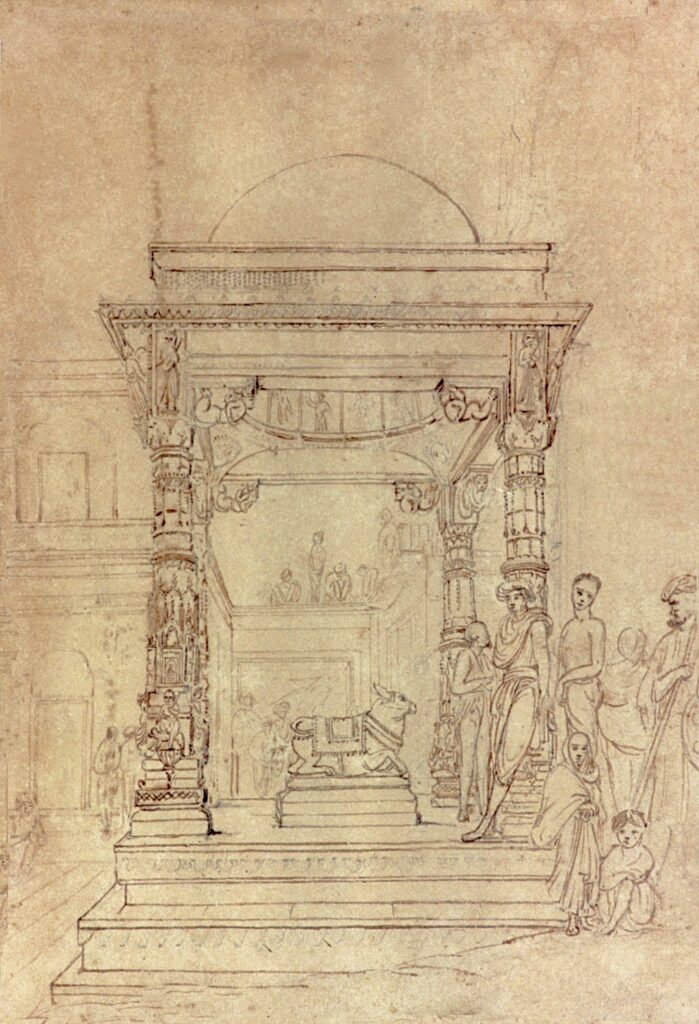 VMH R435-40
On her journey Eden sketched several architectural landmarks such as this one at Mirazpur.
A View at Futtehpore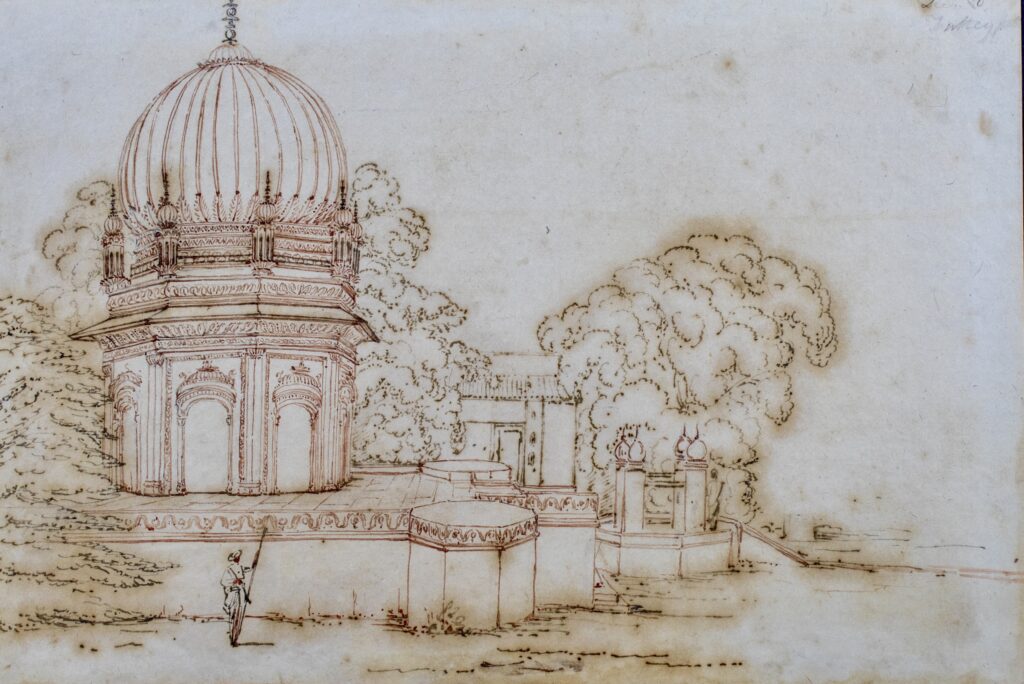 VMH R435-49
Eden visited Futtehpore [Fatehpur] twice during her travels.
A View of the Entrance to 'My' Tent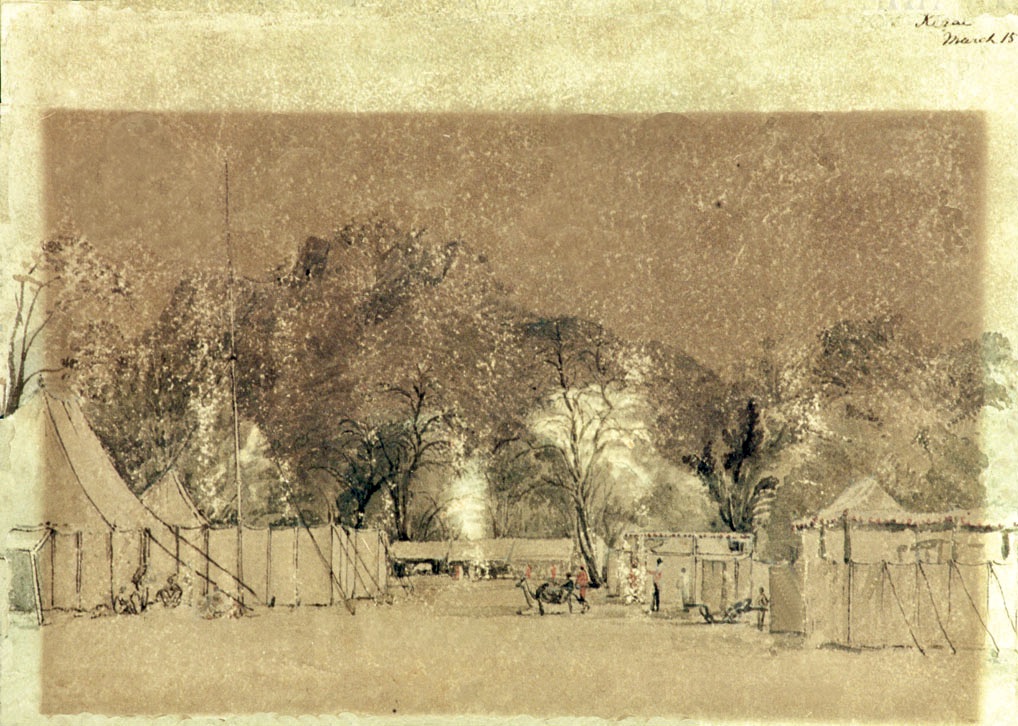 VMH R435-85
A View of the entrance to "my" tent and of Lord Auckland's – with the dining tents on the opposite side of the street, the stables in the distance. The Hill of the Kerai Pass with the red cotton flowers in full bloom. E.E.
Eden spent many months in this tent while touring the 'Upper Provinces'. Accustomed to more comfortable accommodations, Eden named her tent "Misery Hall" (Nov. 30, 1837). Despite her misery she did take the time to notice the flowers blooming.
A Family of Hill People Travelling Through the Doon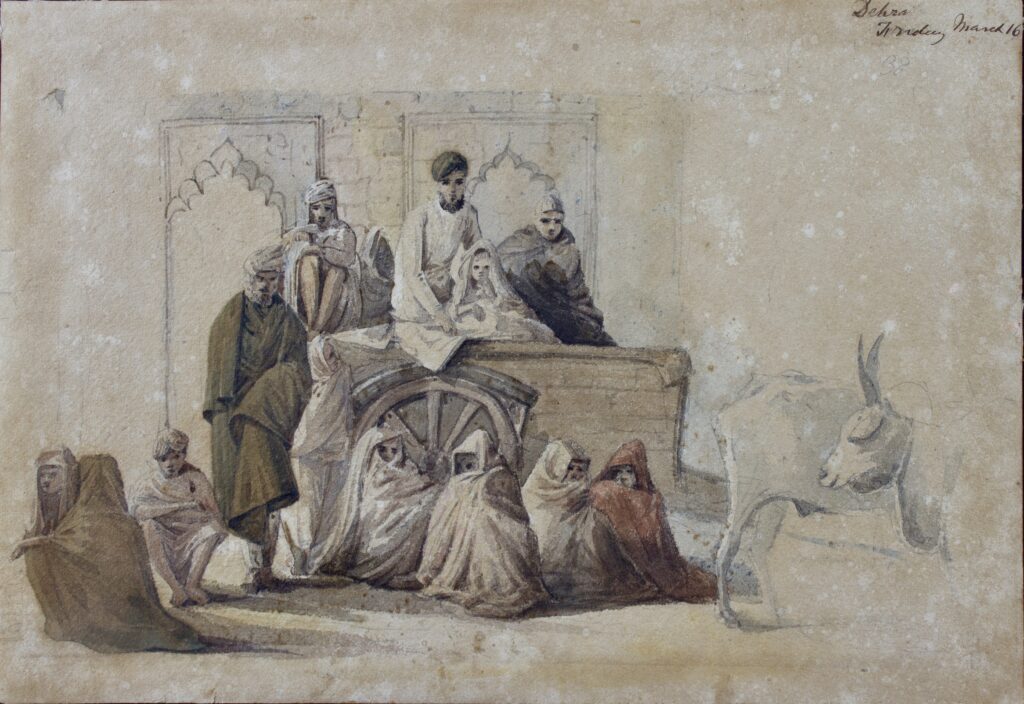 VMH R435-86
Even though Eden writes, "I sometimes wonder they [the Hill People] do not cut all our heads off and say nothing more about it," (May 25, 1839) she nevertheless painted their portrait.
View of the Government House Bungalow at Simla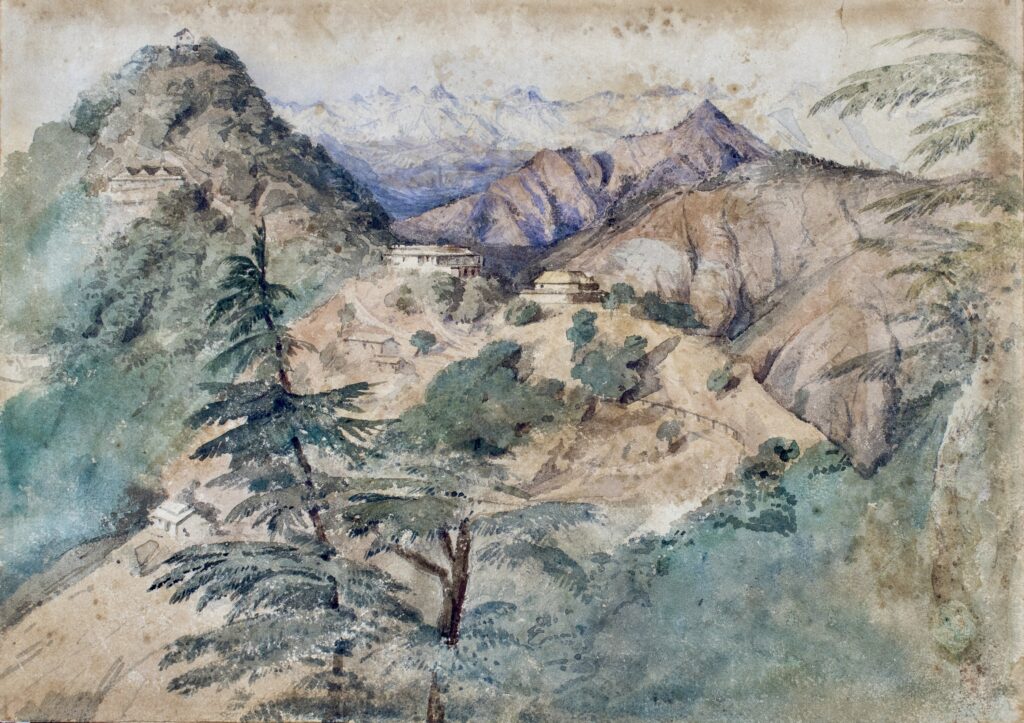 VMH R435-92
Eden was happiest in India when she was in the cool, green hills of Simla [Shimla]. She 'discovered' air again and the gardens reminded her of England.
Two Old Women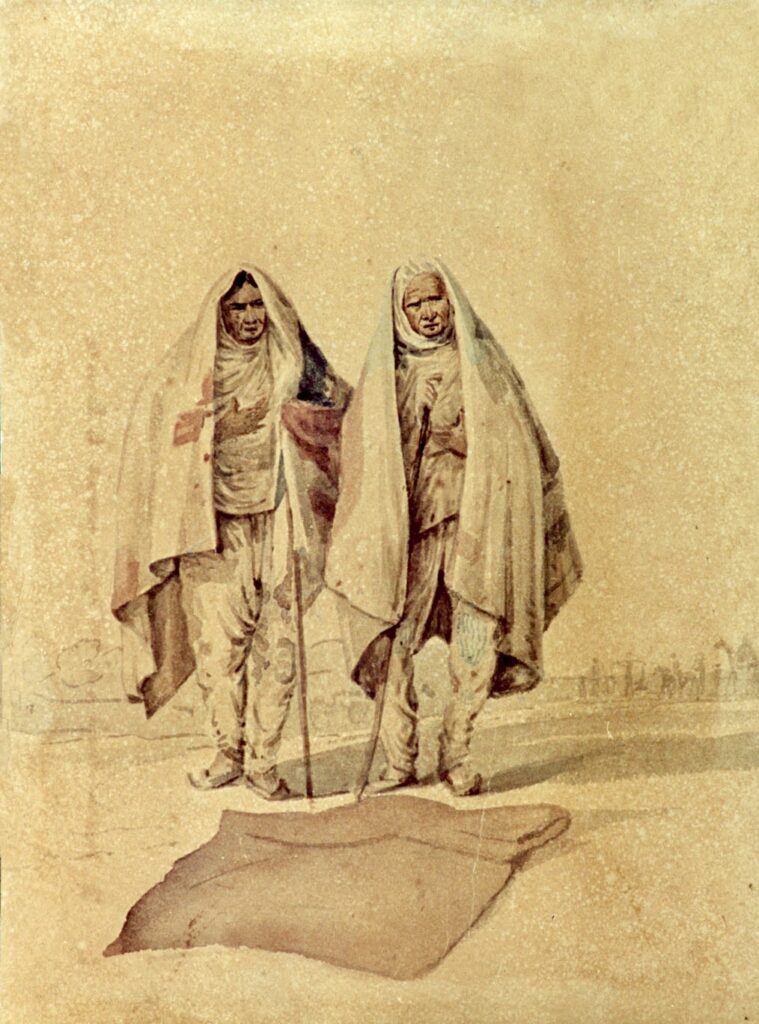 VMH R435-95
Two Old women who stationed themselves near the entrance to the camp on each day's march and accompanied 'our' camp for three successive years. E.E.
These women were just a couple of the thousands that made up the 12,000 people of the Governor General's entourage. Eden incorrectly states that the 'camp' journey lasted three years when it was eighteen months. Perhaps feeling it took twice as long is an indication of how exhausting Eden found the travel.
Annund Mussih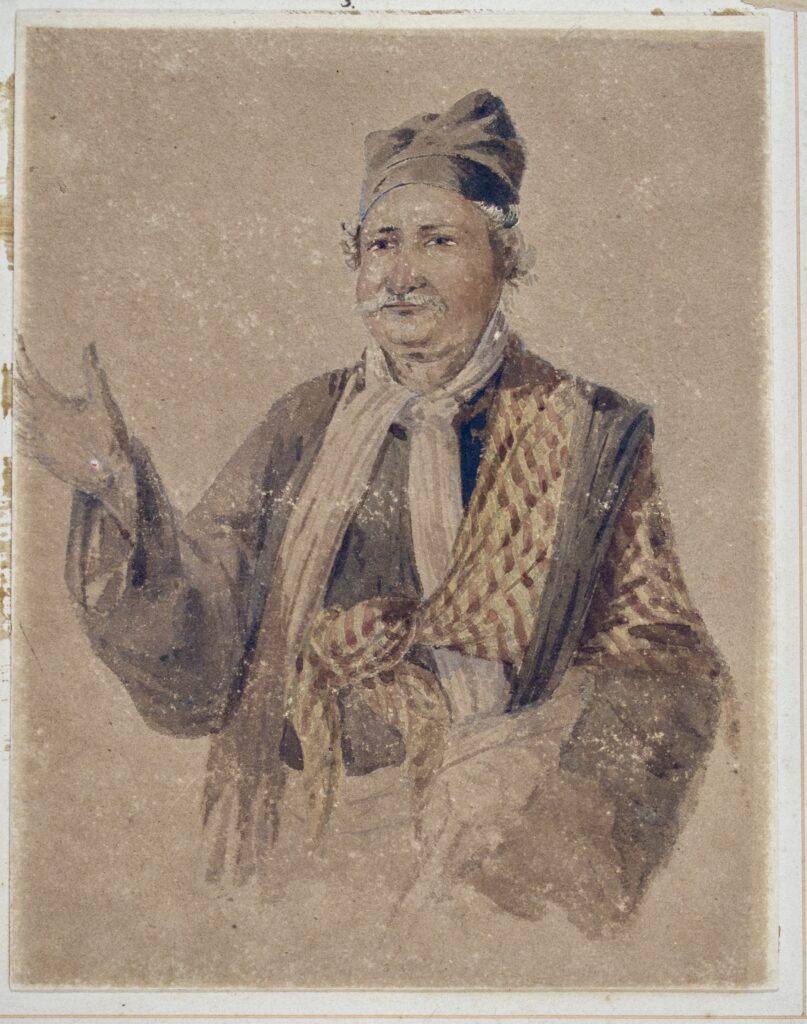 VMH R435-100
Annund Mussih – a converted Hindu who had been ordained, and was a travelling preacher in the Upper Provinces. E.E.
Eden's portrait of Annund Mussih illustrates that there were some Indians who adopted the Christian religion.
One of the Entrance Gates of the Palace of Delhi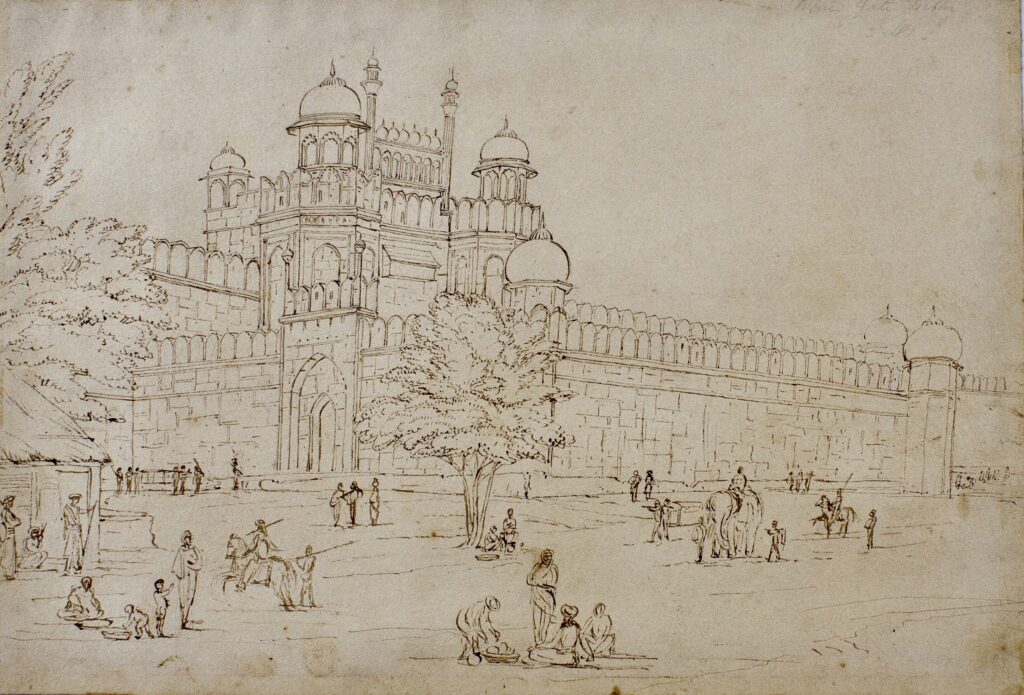 VMH R435-130
Eden visited Delhi twice during her stay in India.
Unidentified
VMH R435-154
Eden painted many landscapes on her journey.
The Lala or Native Doctor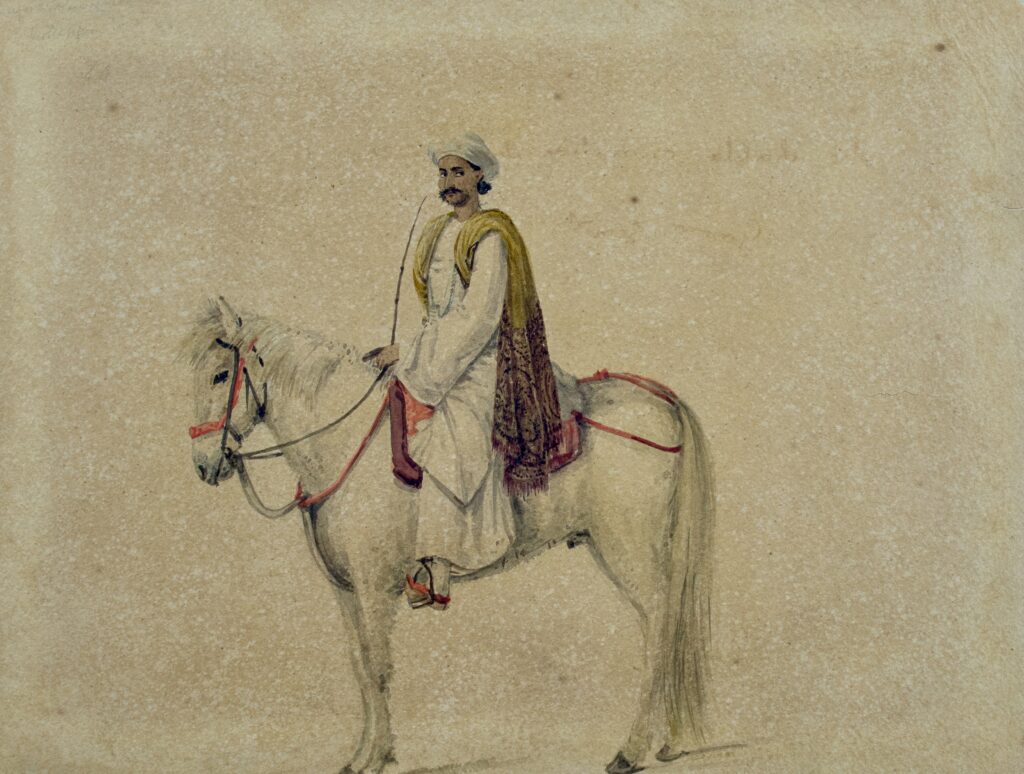 VMH R435-185
During her illness, Rosina was treated by both western and Indian doctors.
A Native Girl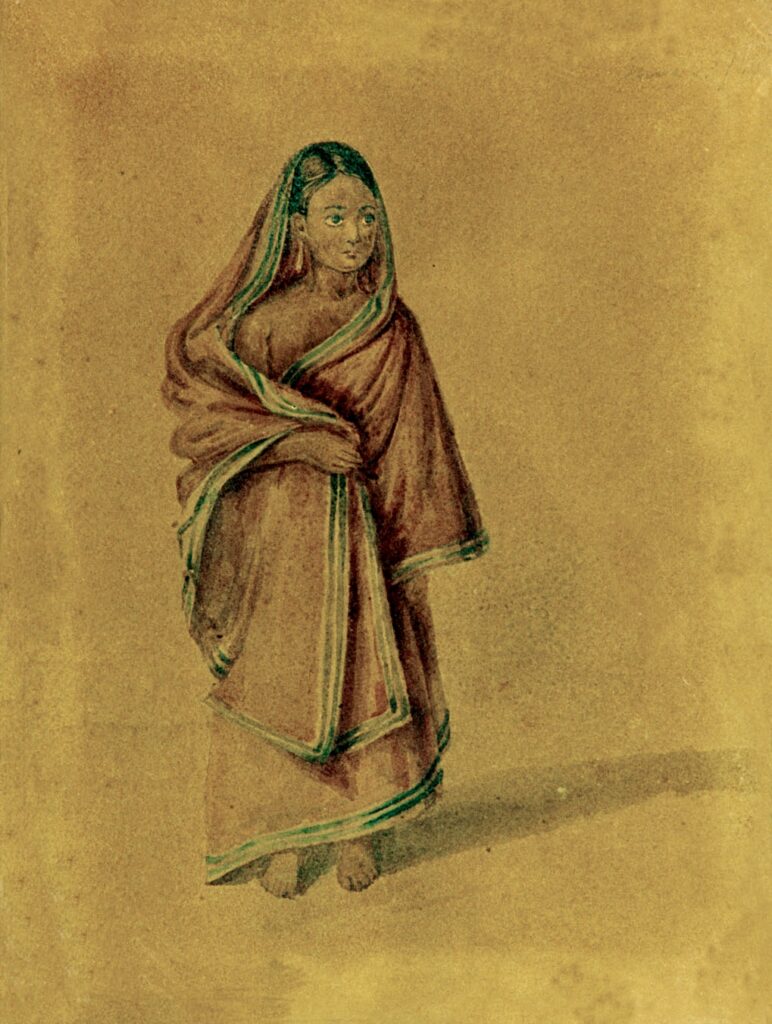 VMH R435-189
The two little girls rescued by Eden, Ameeum and Jehurun, are not named in any of the paintings in the VMH collection, but it is hard to imagine that Eden did not paint them.
Old Palace at Agra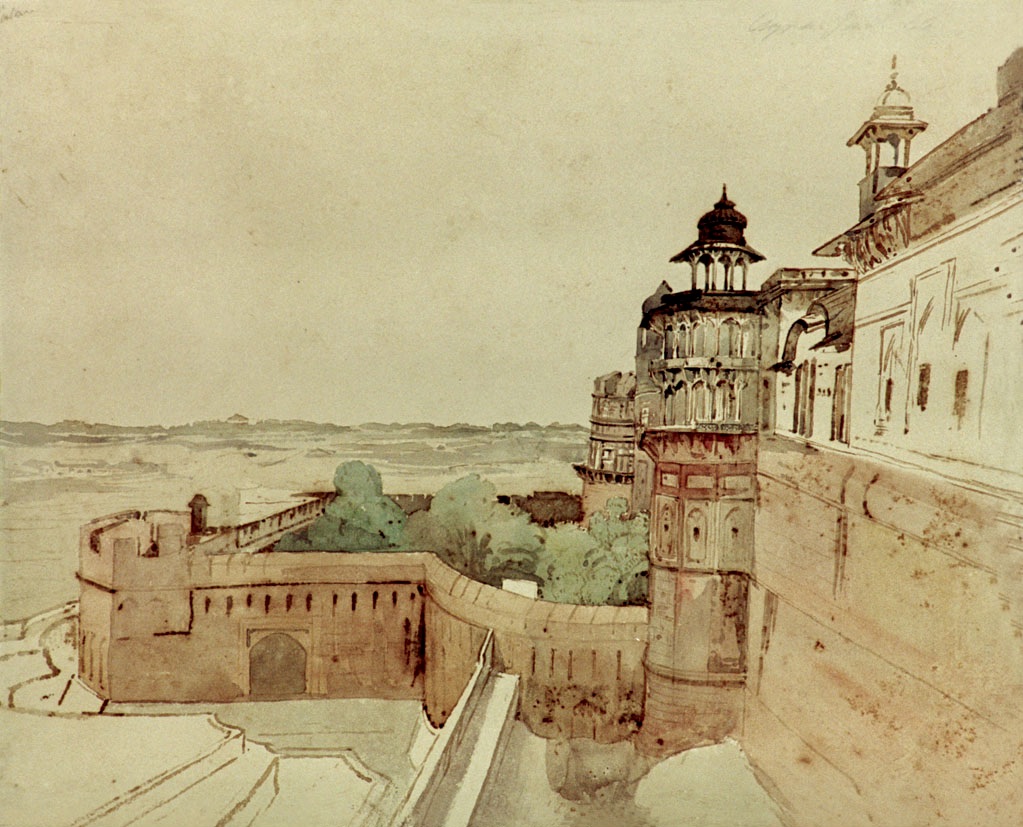 VMH R435-192
Eden spent several days in Agra, giving her plenty of opportunity for painting.
Victoria Memorial Hall in Kolkata holds the largest public collection of Emily Eden's paintings. Click here to see the collection.
____________________
* E.E. denotes Emily Eden's caption for the painting.
Images by kind permission of the Trustees of Victoria Memorial Hall (VMH), Kolkata, India.